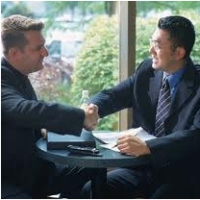 An intensive personal 8-week training
to bring you to getting the check
Here's How to Enroll in the Private Money Mastery Program
The Private Money Mastery Program is a short-term intensive 8-week training the will give You the entrepreneur, the "real life" skills, ability and every Resource you need to go out and find those high-net worth individuals who are interested in investing in your business and then actually convince them to write a check.
The system is based on Professor Richard Odessey's GRAD formula (Get Ready, Attract, Deliver).  Richard is both a longtime entrepreneur and a Private Investor himself.   You will learn directly from Richard and the CEO of his Angel Investor Group.
And you will get personalized instruction that you can apply to your very own business and go out and raise the capital you need to succeed.
Here is the knowledge and skills you will develop:
I. Get Ready
When you meet with those Angel Investors (or anyone else who might invest), you'll want to be totally prepared.  Imagine the confidence you'll have knowing you have a great plan, a great investment and that you can easily respond to anything an investor throws at you.
So, well start off by helping you:
create your credibility kit including an impressive bio, business summary, and testimonials
create your board of Advisors and Strategic Team to bolster your credibility and appeal to investors
For real estate investors we'll show you how to put together your property  package
Create your offer that will stimulate the greed glands of your investors without giving away the farm.
Make sure you have the proper "investor-friendly" entity structure
Create your 1 page investor profile (sophisticated investors with big bucks will expect this).
Create a timeline so you can accomplish your goads in weeks, not months or years
II. Attract
In the "Attract" phase you will develop the tools and resources to find the investors that are right for your business and learn how to get them interested in investing.
You will:
Work with your list of contacts and learn how to expand
Get an in depth understanding of investor psychology and learn what buttons to push
Develop an "elevator pitch" that will catch the attention of investors
Learn how "Get the Meeting"
Develop master networking skills.
III. Deliver
This is the "show me the money" part of the formula.  It consists of:
Developing a Powerful, Concise and Effective powerpoint presentation
Recording it.
Having your presentation professionally critiqued
And practice, practice, practice
Going over questions you will be asked and how to answer them.
How to ask for the money
If you agree to put in the work, we can show you how to master all these skills, and go out and get the money.
Private Money Mastery is an 8 week intense program.   You will be mentored by 2 master instructors: an experienced entrepreneur/and investor, and the CEO of an Angel Investor Group.
This is a totally unique program devoted to skill mastery and is only for entrepreneurs willing to do whatever it takes to succeed.
Please Fill out and Submit the Application below.
Richard will contact you to set up your first meeting.