I know you may not be able to afford the deeply discounted tuition at Private Money Prep School.  Or you may not feel you are ready for it.  Well, don't go away because I'm coming to the rescue.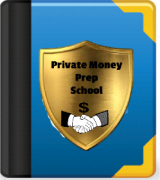 I have prepared what I call the "Private Money Prep School Handbook".  This book which I wrote myself will take you for a deep dive into all the topics we will cover in private money prep school.
It explains all the concepts, and lays out all the strategies that smart and successful entrepreneurs use to raise private money.
Now, you don't get the live training and the other bonuses, but if you want the inside scoop of how to raise money for your business the "Private Money Prep School Handbook" is something you absolutely need.
I'm pricing it a SPECIAL 50% OFF DISCOUNT for you,

and you may never see this price again.
And in fact, I'll go you one better:
If you decide to sign up for Private Money Prep School in the future, I'll discount whatever the tuition is at the time, by what you are paying for this book!
So, Don't Delay….